It was brought to our attention that humans like to know who they are dealing with. We are therefore taking some time out of our very busy sleep schedule to introduce ourselves. Our Association's long term goal is world domination, but for the near future, we have graciously permitted our human to develop some games. This is done in hopes of acquiring funds, which will be invested in treats, toys, and scratching posts of the finest quality (we hope).
The Humans
Maryla Rittmann
Game Developer
Premium Cat Bed
The Meowerlords let Maryla handle the details of game development. She enjoys coding, game design, using Open Source Software and coffee.
The Meowerlords
Felix
Director of Human Attention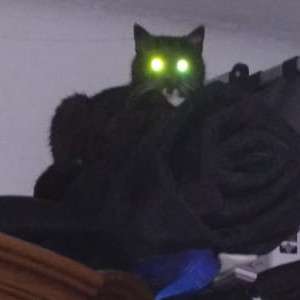 Felix is responsible for the coordination and prioritizing of human resources. He handles project planning, progress analysis and prioritizing – assuming enough attention was distributed to him first.
Mogli
Chief Executive Officer of Complaints
Department Lead of Quality Control (Specialization in Cat Food and Treats)
Mogli is especially skilled in communicating quality issues with noms. He does his best to extend this expertise to the handling of feedback and bug reports.
Sneaky
Senior Manager of Mischief
President of Non-Digital Bug Removal
Sneaky has built a life-long career in being present when things break or are not going as planned. She also works hard to never miss unguarded doors, drawers, or cooking implements. The Meowerlords are relying on her for crisis management and assistance in debugging.
Tommi
Head of Communications
Junior Assistant Manager of Game Design (Specialization in Laser Pointer Devices)
Tommi is the most talented communicator among the Meowerlords. Combined with his playfulness, he also makes an excellent analyst of game design topics.