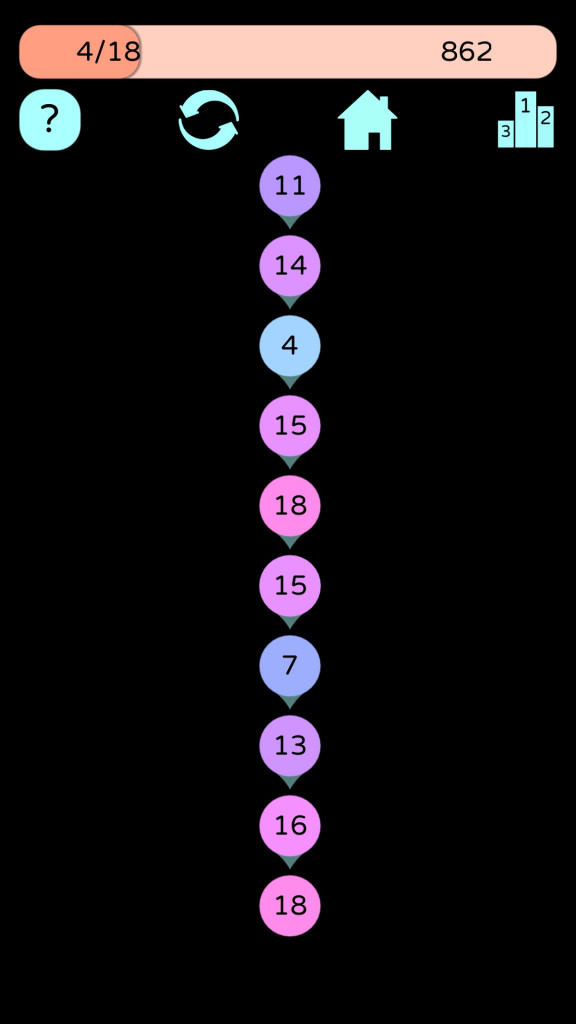 The Game
Zencrement is a simple, but addictive puzzle game. Merge equal numbers to survive and optimize your high score!
Features:
Multiple levels
4 difficulties
Translations: English and German
Platforms
Zencrement is available on:
Android:
itch.io, including versions for:

Windows
Linux
Android (Premium Version)
Screenshots
Changelog
Known Issues
older Android versions/phones may be unable to start the game (under investigation). If you have a phone with this problem and are comfortable sharing the model and Android version, please do so! We have a list of currently supported platforms and known issues here.
leaving a level mid-chain-reaction may lead to empty bubbles or neighbouring equal numbers being restored when the level is re-loaded – we named that bug Nettles and you can learn more about her here!
the .exe on Windows still shows the default Godot icon
Please report anything you find or share your suggestions for improvements! Issues not mentioned on this list may get rewarded with free codes for the premium version 🙂
Upcoming changes
We received lots of helpful feedback from our kind human users already and squashed many bugs! Expect these improvements in the near future:
a link to more games once Zenrithmetic is ready for open beta
hopefully a release on Kongregate for all our curious iOS-bound Humans (sorry for the wait!)
v1.0.6
added Nettles
improved UI/font rendering quality overall to avoid some pixelation issues
updated app icon
added a window resolution option for desktop platforms
v1.0.5 (free) and v1.0.4 (premium)
improved game logo
adapted logo and name of the FREE version to help distinguish the two
reworked game over detection logic to actually detect things
improved game over screen:

adapted name input field to on-screen keyboards
added a hint to the unlock progress bar if everything was already unlocked within a level

FREE VERSION ONLY:

fixed a bug where ads did not properly load after quitting the game
added a link to the premium version

PREMIUM VERSION ONLY:

fixed .apk permissions (the premium version should not need any permissions at all!)
So… what about v1.0.3?
Do not worry, attentive Human! v1.0.3 was an internal test for the logo and name changes which should, in fact, leave your high scores and unlocks intact once you update the app. Its changes are included in the entry above 🙂
v1.0.2
reduced score requirements to unlock new levels
minor fixes:

typo in consent screen
"English" appearing as selected language on first startup, even if this is not the case

level not correctly ending/regenerating if the back button is pressed in the game over screen, effectively giving infinite actions to patient humans
v1.0.1
Hotfix: ads should stop showing up after entering/leaving the tutorial
v1.0
Initial release.